2017 Guests and Attending Professionals
Guests:
Lisa Henson
As CEO and President, Lisa Henson oversees all television and feature film production from early development through post-production. Henson credits include the Netflix Original Word Party, the groundbreaking marine biology series Splash and Bubbles for PBS KIDS®, the Sprout animated series Dot., based on Randi Zuckerberg's popular book, and the new Netflix Original preschool show Julie's Greenroom, starring award-winning actress Julie Andrews. Additionally, Henson serves as executive producer on the Emmy®-nominated PBS KIDS® preschool series Sid the Science Kid and Dinosaur Train, the Sprout preschool series Pajanimals and the Hulu original Doozers, a CG animated preschool series inspired by the popular characters from Fraggle Rock, all airing daily in the U.S. and in multiple markets around the world.

Henson is currently serving as executive producer on Sony Pictures Animation's The Star set to premiere in November 2017. Other feature credits include the Disney film Alexander and the Terrible, Horrible, No Good, Very Bad Day, MirrorMask, Muppets Wizard of Oz, and Good Boy! Films currently in development include Frog and Toad, Which Witch with Billy Crystal, Happytime Murders starring Henson Alternative's Miskreant Puppets, and the highly anticipated film Fraggle Rock.

Prior to her current position, Henson was President of Columbia Pictures where she oversaw a string of critical and commercial successes including Little Women, Immortal Beloved, and Ang Lee's Oscar®-winning Sense and Sensibility. Before joining Columbia Pictures, Henson served as an executive at Warner Bros.

Henson graduated summa cum laude with a degree in Folklore and Mythology from Harvard University, where she was the first female president of The Harvard Lampoon.
Toby Froud
Around the world, countless movie fans remember Toby Froud for his role as the baby "Toby" who is wished away by Jennifer Connelly, his half-sister "Sarah," to David Bowie, the Goblin King "Jareth," in director Jim Henson's 1986 feature film, Labyrinth.

The son of the film's conceptual designer Brian Froud and puppet builder Wendy Froud, Toby Froud was born in 1984 has spent a lifetime steeped in a world of goblins, faeries, trolls, puppet theatre and magic-making. Appropriately enough, in 1999, when he was 15, Toby did his first apprenticeship at the Muppet Workshop in New York.

In 2004 Froud was fortunate enough to go out to WETA, the special effects studio owned by Richard Taylor, to be part of the team to sculpt and fabricate on the first installment of The Chronicles of Narnia in the feature-film series. He continued with miniature work and sculpting at WETA on director Peter Jackson's movie, King Kong.

An accomplished stilt-walker and fire-juggler, Toby has appeared as a costumed performer in collaboration with Faerieworlds LLC, William Todd Jones, and The Daughters of Elven and as one of the puppeteers for the opening act for the band Scissor Sisters at the 2005 Brit Awards. He created and built props and sets for What's Your News, the British television program for children, and character suit performance for Nickelodeon's, Bunny Town. Froud also created performance masks and puppets for the London theatre productions of Beauty and the Beast and Cinderella.

In 2006, Toby Froud graduated from Wimbledon School of Art, receiving a BA in Technical Arts and Special Effects and continued as a free-lance artist, creating work for theatre, film, video, and television.

In 2009 Froud joined the Michael Curry Workshop, responsible for the award winning Broadway show Lion King, in Portland, Oregon, as a fabricator and video artist.

Since 2010, Toby Froud has been with Laika Entertainment, the stop-motion and animation company in Portland, Oregon, producer of the award winning animated feature film, Coraline. Toby was hired as puppet fabricator for the film, ParaNorman and became a sculptor for The Boxtrolls and Kubo and the Two Strings.

In 2014 Toby created his award winning Puppet short film "Lessons Learned" being a part of many festivals around the world.

Froud has continued to design and create creatures and puppets for stage and screen, including the creature design and puppet for Billy O'Brien's film I am not a Serial Killer starring Max Records and Christopher Lloyd.
Mike Horner

Mike Horner is a professional puppeteer and puppet builder based in North Kansas City, MO. He is the Artistic Director of Kansas City's Mesner Puppet Theater and tours nationally and internationally with the company in addition to directing and performing in the company's own theater. As lead puppet builder with Mesner Puppet Theater, Mike designs puppets for the company's shows as well as for commissioned theatrical and video productions. Mike has become a fixture at pop culture conventions across the country with his puppet parodies of Star Wars and Doctor Who.
Timothy J Clarke
For over 30 years Tim Clarke has been inventing, designing and sculpting some of the most unusual toys to ever be marketed in the US and abroad. Once known as the "King of Gross" after co-creating in the 80's Sectaurs (Coleco) and Boglins (Mattel). Tim now launches his new line of horribleness: the "TOTIMS."
Tim loves creating my own mythology. The world is filled with modern day mythological creatures you can find them in every nook and cranny of your bedroom closet.
Tim started his career designing and building puppets for the Muppets. Most notable were the Mystics and the Slaves that he sculpted and designed for the movie the Dark Crystal, guided by the incredible drawings of Brian Froud. He also worked on puppets for Sesame Street, Muppet Show, and Fraggle Rock for which he created Traveling Matt. After Dark Crystal was launched he garnered his first toy sculpting gig with Hasbro creating the Garthim, Mystics, and Lanstrider toys.
He has also created toys for Melissa and Doug toys, EK Success, Hasbro, Mattel, Coleco, Kenner, Ideal Lossirs, to mention just a few.
Stacey Gordon
Stacey Gordon is a Phoenix-based puppeteer and puppet builder and operates Puppet Pie, a puppet building studio in Phoenix, Arizona. Stacey is also the performer behind Sesame Street's newest friend, Julia, a Muppet with autism. Before being cast as Julia, Stacey worked as a puppet builder and performer doing live shows and video work with the Mayfair Games, Etsy, The Phoenix Coyotes, and the Barenaked Ladies. She also teaches puppetry workshops in her studio, as well as at schools, libraries, and corporate events.
John Tartaglia
At the young age of 16, John Tartaglia began his career in children's television when he was cast as a puppeteer on the world-renowned Sesame Street. John went on to create, executive produce, and star in his own preschool series Johnny and the Sprites, for Disney Junior. The series was nominated for 8 Emmy awards, including a nomination for "Outstanding Performance in a Children's Series" for Tartaglia. John Stars as KIP on Jim Henson's Word Party on Netflix. He earned a Tony Award Nomination for his Broadway debut in the dual roles of Princeton and the Rod in the hit musical Avenue Q. Other Broadway roles include Lumiere in Disney's Beauty and the Beast and Pinocchio in Shrek the Musical.

As a director, John helmed the national tours of Dinosaur Train Live and Sid the Science Kid Live, Claudio Quest New York Musical Theatre festival, The Wizard of Oz, Tarzan, and Shrek the Musical at the St. Louis Muny, Lord Tom (York Theater), Shrek the Halls (Dreamworks theatricals), Because of Winn Dixie (Arkansas Rep.) and more. John wrote the acclaimed off Broadway musical, Imaginocean, that has been reimagined as a television series, and Splash and Bubbles currently airing on PBS Kids. John plays Splash, Tidy, and Maury and serves as its creator and co-executive producer.
Martin Robinson
Martin Robinson has been on staff at The Jim Henson Company since 1981. Early roles have included Mr. Snuffleupagus, Telly Monster, Slimey, and Buster the Horse, though all were previously performed by other people. He also performed Oscar's niece, Irvine, and his mother, Mrs. Grouch, and has voiced many announcers. In addition to performing, he has played an active role in hiring and training puppeteers for local Sesame Street productions in Mexico, Israel, Palestine, Egypt, Russia, and Bangladesh. Other Henson productions that Robinson has performed in, outside of Sesame Street, have included the Farmer in Tale of the Bunny Picnic, the animatronics for Leonardo in Teenage Mutant Ninja Turtles, and The Cat in the Hat on The Wubbulous World of Dr. Seuss.
Robinson's stage credits include designing, building and performing Audrey II in the original 1982 off-Broadway and 2003 Broadway productions of Little Shop of Horrors, and set designing and building for the Broadway production of Stephen Sondheim's Frogs.
He has twice been nominated for a Daytime Emmy Award.
Annie Evans
Annie Evans is a writer who has been on staff with Sesame Street since 1994. She has been one of the principal writers for Elmo's World and was lyricist for the songs "Peaches and Pears" and "I Love Fruit" from Episode 4089. Previously, she scripted the Wubbulous World of Dr. Seuss episode "Who Are You, Sue Snue?", Big Bag, and Panwapa. Evans also served as a consultant on Galli Galli Sim Sim, the Indian co-production of Sesame Street.

An established playwright, Evans' plays, for puppets and for people, include Ghost Stories and several monologues. Her one-act play, Pigeon-Holed, is a partial parody of Sesame Street which has been staged at the O'Neill Puppetry Conference where she is an artistic associate. Together with her husband, Sesame Street puppeteer Martin P. Robinson, she ran the official Sesame Workshop parenting blog Sesame Family Robinson.
Nick Maley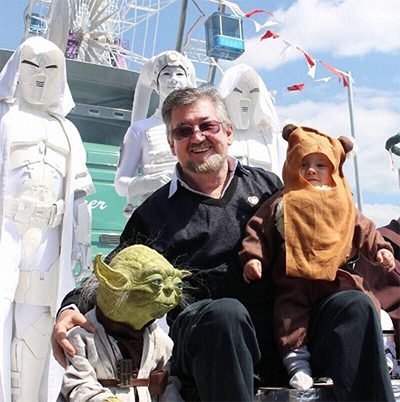 Nick Maley started working in the film industry in 1969. Over the course of 54 movies Nick Maley has worked as a make-up artist, prosthetics designer, director of special make-up and creature effects, screenwriter, storyboard supervisor, and video director/producer.
His big break came in 1976 when his continued association with veteran Special Make-up designer Stuart Freeborn led to his involvement in the making of Star Wars and the famed Mos Eisley Cantina sequence. He contributed to Chewbacca, Greedo, Dr Evazan, Wuher the barman, Ponda Baba, Dannik Jerriko, The Fly Alien: Tzizvvt, Snaggletooths: Takeel & Zutton, the Crockers: Hrchek Kal Fas & Sai'torr Kal Fas, the Rat Alien: Snitch Garindan, Bat Alien: Kabe, Walrus creature: Mosep.
On Star Wars Episode V: The Empire Strikes Back, once filming started and crucial team member, Graham Freeborn, was occupied with the stars on set, Nick was the senior tech in the Creature FX workshop. He was a key collaborator in the creation of three versions of Yoda for which he was dubbed "that Yoda Guy." He co-built the full size Wampa, designed and built the close-up Mynock puppet, assisted with the Tauntaun's animatronic head, moulded and foamed the prosthetics for the Ugnaughts and other creatures.
He assisted Stuart for 7 years, contributing to Superman I & II and, as a make-up artist & effects consultant, also contributed to The Shining, The Man with the Golden Gun (007), Sinbad and the Eye of the Tiger, Flash Gordon, A Bridge Too Far, The History of the World Part I, and Clash Of The Titans.
Over the years that followed he designed and in some cases directed the prosthetic, animatronics and creature effects for Britannia Hospital, , The Keep, Lifeforce and Duran Duran's award winning video "Wildboys." On Highlander he not only conceived all the beheadings and designed the Kurgan's prosthetics, but also devised "the Quickening" by creating the storyboards for those sequences. His work was featured in several CINEMAX and HBO specials, led to articles in Punch, Playboy, Cinefantastique, and numerous newspapers, won a place in The Guinness Book of World Records, made the front cover of American Cinematographer, Fangoria, Fantastic Films, Starfix.
With 54 movie projects to his credit, Nick turned his attention to his artwork and the preservation of movie history which lead to the creation of the Yoda Guy Movie Exhibit in 2011.
Today Nick continues his involvement in entertainment events with autograph appearances and discussion panels at Star Wars conventions, ComicCons and keeps the history of these epic movies alive at his The Yoda Guy Movie Exhibit on the Caribbean island of Saint Maarten.
Stephen Chiodo
With an incredible passion for making fantastic images become a reality, Stephen Chiodo has established himself as a highly creative director with an expertise in special effects and stop-motion animation. He perfected his animation and directorial skills at Rochester Institute of Technology, where he was awarded "Best Young Director" at the Cannes Film Festival for a ten-minute short he wrote, produced and directed.

Moving from New York to Los Angeles, Stephen quickly established himself in a new market and co-wrote and directed the award-winning ABC After School Special, Cousin Kevin.

He has served as co-producer and visual effects supervisor for ABC's All New Land of the Lost TV series as well as directing several episodes. Additionally, Stephen developed and executive produced with Howie Mandel the wacky effects-filled CBS series The Amazing Live Sea-Monkeys.

For the company's first feature film, the widely popular cult-classic Killer Klowns from OuterSpace, Stephen served as writer and director. Bouncing back and forth between movies, television and commercials, Stephen and company have received Emmy Awards for animation work on The Simpsons and the sci-fi mini-series Dune and the Cannes Film Festival's Lion Award two years in a row for Japan's Cup-A- Noodles campaign.

Over the years Stephen has worked with notable Hollywood directors as Joe Dante, Jon Faverau, John Landis, Matt Stone, and Trey Parker. He also worked closely with Tim Burton on a number of projects, most notably as a Technical Director and Animator for the acclaimed short Vincent for Disney.

Most recently Stephen has developed and directed pilots for CNN, ShowTime and the Disney Channel and has been sharing his experiences and knowledge by teaching stop motion animation at the prestigious California Institute of Art.
Charles Anthony Chiodo
Charles Chiodo, began his career as an illustrator and graphic artist for ABC's Eyewitness News in New York City. He left New York to join his brother in Virginia at Stowmar Enterprises to design the stop motion clay feature I Go Pogo, based on the famous Walt Kelly comic strip. After production was completed, Charles and his brother Stephen headed west to Hollywood to further pursue their film making dream.

Charles honed his art direction and painting skills on Shelly Duvall's Faerytale Theater, working with directors Tim Burton and Francis Ford Coppola. He has done conceptual art, storyboarding, character design for various film projects including The Lost Boys. He has designed creatures large and small, from giant, Radioactive Dreams rats to the man eating, rolling fur balls for New Line Cinema's Critter film franchise.

Charles co-wrote and was the production designer of the Chiodo Bros. cult classic feature Killer Klowns from Outer Space. When Syd and Marty Krofft revisted the Land of the Lost, Charles designed and art directed the special effects, characters, and miniatures.

For the CBS Saturday morning series, The Amazing Live Sea Monkeys, created and produced by Howie Mandel and the Bros., Charles conceptualized the characters and their wacky world.

Kevin Eastman and Saban brought the Ninja Turtles back with the help of Charles's design and art direction and when Earnest needed to be scared stupid, Charles transformed the director's concept sketches into reality.

John Favreau wanted a whimsical stop-motion opening title sequence for ELF. Charles designed the sequence and set pieces.

Since then he has contributed design and art direction to Team America, and the mouse dioramas in Dinner for Scmucks. Now Charles is busy developing original Chiodo Bros. properties and characters for shows, features, live venues and merchandising.
Edward Chiodo
Edward Chiodo is the co-chairman and head of production at Chiodo Bros. Productions, Inc. He is responsible for new business development, client relations and the overall operations of this dynamic studio. He also serves as Executive Producer on all Chiodo Bros. projects. Edward has spent almost three decades at the helm of this highly creative independent production company with expertise in live action puppetry, stop-motion animation, make-up effects, special effects, and production management.

After years of perfecting his craft in the world of effects artistry, the Chiodos produced an original 30-minute television special, Cousin Kevin, for KABC. This award-winning show gave them the opportunity to make the feature film, Killer Klowns from Outer Space, which Edward produced and co-wrote with his brothers. Shortly afterwards, he co-produced Sid and Marty Krofft's Land of the Lost and then later joined creative forces with Howie Mandel as an executive producer and character-creator for CBS's crazy live-action television series The Amazing Live Sea-Monkeys.

Edward recently finished producing three television pilots, Team Smithereen for Disney XD, Earth versus Everything for Wildbrain/DHX, and Felt for Relativity Real, the latter, which was picked up by Logo Network for an 8-episode run. Other recent credits include producer on Matteo Ribaudo's short film, Ophelia, executive producer on Ghost Works', LLC, short film, Night of the Little Dead, and producer on Sam K. Hale's short film, Yamasong.

Edward and his brothers, are currently developing the long awaited sequel to Killer Klowns from Outer Space along with three original properties, Chiodo Bros.' Alien Xmas, The Italian Odyssey, and Channel 8 from Outer Space for Chiodo Bros. Productions, Inc.

Edward currently performs as part of the team that brings the evil rabbit, Dr. Colosso, to life on the hit Nickelodeon show, The Thundermans.
Attending Professionals:
Vanessa. S. Valliere
is a Chicago based performer who has toured nationally with her devised solo puppetry and clown work. She also tours internationally with Manual Cinema, and nationally with Theater Unspeakable and Tour De Fat. She is a proud nerd-cheerleader for the thirty-piece circus punk marching band, Mucca Pazza.
Alex Vernon is an actor, puppeteer, maker, silhouettist, and automata repairer.
Sarah Olmsted Thomas is an actor, puppeteer, accordionist, and one half of the puppetry duo Alex & Olmsted which was recently awarded a Jim Henson Foundation Grant.
Dana Samborski
is a Nashville-based puppeteer and animatronic technician at Animax Designs. He is an MFA candidate in UConn's Puppet Arts Program and an undergraduate alumnus of the same. In 2015 he was the Assistant Festival Director of the National Puppetry Festival. Dana is also a board member of Unima-USA.
Lyon Forrest Hill
is the Artistic Director for the Columbia Marionette Theatre in SC. He specializes in marionettes and paper puppets. Three of his short films are part of Heather Henson's Handmade Puppet Dreams film series, which are shown internationally. His film Junk Palacereceived an UNIMA-USA Citation of Excellence.