2016 Guests and Attending Professionals
Guests:
Brian Henson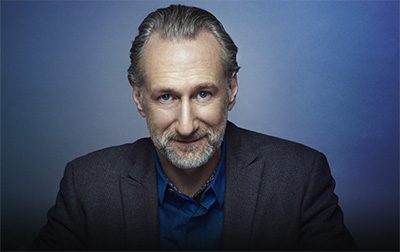 Brian Henson is Chairman of The Jim Henson Company and an award-winning director, producer and writer for film and television. He is also a technological innovator and skilled puppeteer.
Joining his father Jim Henson on set when he was a child was something Brian did regularly. By the time he was 17, he had watched his father at work and spent time with his father's colleagues. After operating the marionettes in the complicated bicycle scene in The Great Muppet Caper, Brian became indispensable on the sets of his father's productions. In May of 1983, Brian joined his dad on production of The Muppets Take Manhattan. He was assigned to Faz Fazakas, often referred to as an electro-mechanical wizard, to help with special effects. Some of these involved radio controlled puppets and other animatronic techniques. He was also a performer, working the marionette rig for Scooter's bicycle ride. Talented in both areas and interested in the work of his father's Creature Shop, Brian kept an eye out for other opportunities in fantasy film work. In 1984, he moved to London to work on Return to Oz. The film was not a Henson production, and allowed Brian to assemble his own team of animatronic performers that worked with him on several projects, including Jim Henson's fantasy classic Labyrinth. Brian served as puppet captain for the film while also performing the character Hoggle with Shari Weiser. Brian's work both inside and outside the company during the 1980s allowed him to establish relationships on both the technical and performing sides of the business, giving him a strong foundation for his leadership role in the following decade.
Following the death of his father in 1990, Brian moved back to America to become the CEO of The Jim Henson Company. In 2009, he became Chairman of the company and his sister Lisa Henson became sole CEO.
In recent years, Henson served as Executive Producer on the television projects Jim Henson's Creature Shop Challenge (for which he was also lead judge), Farscape: The Peacekeeper Wars (which he also directed), and Jim Henson's Jack and the Beanstalk: The Real Story (which he co-wrote and directed). He also directed "Battleground", an Emmy Award-winning episode of Nightmares & Dreamscapes: From the Stories of Stephen King for TNT. Henson's producing credits include Bear in the Big Blue House, Gulliver's Travels, Muppets Tonight, and Dinosaurs. Henson's long list of film credits includes The Great Muppet Caper, Return to Oz, Labyrinth, The Witches, Little Shop of Horrors, Teenage Mutant Ninja Turtles, The Muppet Christmas Carol, and Muppet Treasure Island.
Henson has also led the creative and technological innovations of the company, overseeing the groundbreaking work at Jim Henson's Creature Shop, one of Hollywood's pre-eminent character-building, digital and physical visual effects facilities. He was part of the team that first created and utilized the Henson Performance Control System, a powerful custom-based interface for puppeteers, which won an Academy of Motion Picture Arts and Science Scientific and Engineering Award in 1992. He has also been leading the Shop's work with its revolutionary puppeteered animation system, the Henson Digital Puppetry Studio. In 2009, he and his team were awarded a Primetime Emmy Award, Academy of Television Arts and Sciences, Outstanding Achievement in Engineering Development for this proprietary system that allows performers to puppeteer digital characters in real time.
Along with his many talents in performing, directing and technical innovation, Henson is a master at improvisational comedy. In 2005, he created Puppet Up! - Uncensored, a live puppet improvisational show which was named a top ten "Best Stage Show" by Entertainment Weekly and has toured comedy festivals in Aspen, Las Vegas, Edinburgh, New York and Australia and continues to play venues around the country.
Karen Prell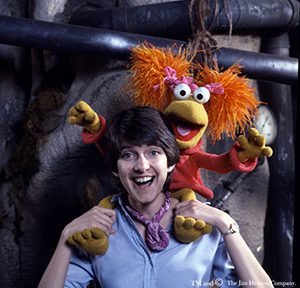 Karen embarked on her career as a puppeteer with Jim Henson and the Muppets in 1980 and performed popular film and television puppet characters regularly for 16 years. Her most well known characters are fan favorites Red Fraggle in the television series Fraggle Rock and the Worm in the feature film Labyrinth. Her other television puppet credits include Sesame Street, The Muppet Show, The Tale of the Bunny Picnic, The Ghost of Faffner Hall, Mother Goose Stories, The Animal Show, and The Muppets. Her other feature film credits include The Muppets Take Manhattan, DreamChild, Muppet Christmas Carol, Muppet Treasure Island, and The Muppets. She now primarily works as a computer animator but still occasionally lends a hand to puppet productions.
Kathleen O'Shea David
Kathleen O'Shea David started working with puppets when she was 2 and over 50 years later she is still "wiggling dolls" for fun and profit. Along the way she picked up a quite few more skills and careers. She has done just about everything from cancer research to rock and roll. Some of her favorite jobs have been in puppetry, theater, and publishing. With her husband Peter David, she adapted the first four issues of the Japanese Manga Negima. She is a published writer with a Doctor Who story in the Big Finish anthology Short Trips: Qualities of Leadership among others. She worked on Star Wars: The New Jedi Order with Shelly Shapiro. She has had a number of short stories in published in various anthologies. Her costumes have won awards at various science fiction conventions both for performance and workmanship. She has also created costumes for film and stage. She is a former employee of the Center for Puppetry Arts in Atlanta. Her puppets are in collections all over the world. She created the series Headcases with her husband
Mike Horner

Mike Horner is a professional puppeteer and puppet builder who created of Timey Wimey Puppet Show, a Doctor Who–themed puppet parody. He is associate artistic director with the Mesner Puppet Theater in Kansas City
Tim Lagasse
Puppet Master Tim Lagasse, who most recently worked on ABC's The Muppets, and starred as Crash, in Disney XD's Crash & Bernstein, has been entertaining audiences with his unusual skill set for over 25 years. A Sesame Street alumnus, Lagasse designs, builds, and performs all forms of puppets, as well as directing and editing single and multi camera television shows (usually with puppets in them). His creation of a series of short puppet films for the award-winning PBS children's series Between the Lions garnered him three Daytime Emmy nominations.
Cheralyn Lambeth
Cheralyn Lambeth is a professional costume, prop, and puppet builder whose work includes feature films (The Muppet Christmas Carol, The Patriot, Leatherheads, The Hunger Games), television shows (Dinosaurs!, Homeland, Outcast), and live/interactive properties (The Star Trek Earth Tour, Star Trek: The Experience at the Las Vegas Hilton, Avenue Q, and work on professional sports mascots such as Sir Purr of the Carolina Panthers NFL team). She is also a paranormal investigator and author of Haunted Theaters of the Carolinas, and has expanded her writing career with two additional books titled The Well Dressed Puppet and Creating the Character Costume: Tools, Tips, and Talks with Top Costumers and Cosplayers.
Dave Chapman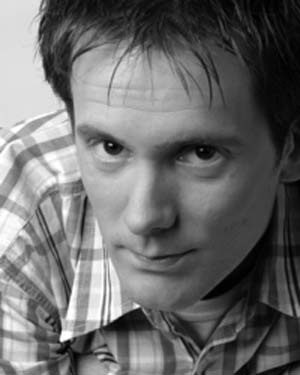 Dave Chapman is a British actor and puppeteer who was an additional performer on Muppet Treasure Island, Muppets Most Wanted, and 101 Dalmatians. In 2011, he was an assistant puppeteer for Animal during an appearance on The X Factor.
More recently, Chapman played Dougie Colon, Eddie Watts, and others in the Jim Henson Company and BBC co-production That Puppet Game Show. Chapman joined Brian Henson on stage for Brian Henson's "Evolution of Puppetry" lectures at the 2013 Edinburgh Festival and has guested in the Henson Alternative improv show Puppet Up!
Chapman graduated from The London Academy of Music and Dramatic Art (LAMDA) in 1992 and was trained at the Jim Henson Company's puppeteering workshop in 1994. His tutors were Kevin Clash, Nigel Plaskitt, and Rob Tygner. Afterwards, Chapman performed various puppet characters for British TV; such as BBC presenters Otis the Aardvark and Vinnie the Ferret. He has also performed Tiny of Tiny and Mr Duk, Scratch on Nuzzle and Scratch, Windy on Space Pirates and as double for Victor Yerrid on Jim Henson Company's Pajanimals. Chapman also worked with Brian Herring as the on-set puppeteers for the droid BB-8 in 2015's Star Wars: The Force Awakens.
Chapman's acting credits includes the BAFTA Award winning shows The Slammer and Dick and Dom in Da Bungalow (in the latter, he played over 200 characters). He also provided Dalek voices in the 1999 special Doctor Who and the Curse of Fatal Death.
Kirk Thatcher
Kirk Thatcher is an Emmy award winning writer/producer, a four time Webby award winning director, and a production designer with a penchant for special effects, strange creatures, and comedic characters with irreverent personalities. Kirk began his career at 18 years old, working at George Lucas's special effects facility, Industrial Light and Magic, creating and puppeteering creatures for films like Return of the Jedi, Star Trek II, Star Trek III, E.T., Poltergeist, and Gremlins.
Brian Herring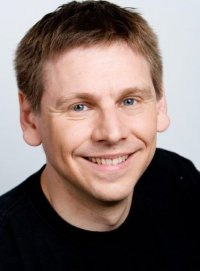 Best known for his performance as BB-8 in Star Wars The Force Awakens (2015), Brian also puppeteered various droids and creatures throughout the movie including First Order Mouse Droids, Steel Pecker, various animatronic creature heads and actually appearing as a Ball-Fight Gamer in Maz's castle. As well as performing these memorable roles, Brian was initially hired as Puppeteer Consultant, working with the CFX Dept to develop many of the creatures from page to screen. He was also responsible for finding most of the performers that brought the creatures to life.
Brian began his career in 1989 after growing up in and around theatre. Working as an actor, stand-up comedian and stage manager, he joined the UK's premier satire show Spitting Image (1992) as an assistant puppeteer where he worked with Phil Eason (Yaddel) and Tim Rose (Admiral Akbar).
In 1999 he joined the world famous Jim Henson company and was a principal performer on all of their UK TV productions until they closed their English production arm in 2005, working on such productions as Mopatop's Shop (Father Mouse and many guest characters), Construction Site (Diggs), and The Hoobs (Hubba Hubba and Groove). His other children's TV work includes; Wizadora (Hangle), The Animal Magic Show (Billy Nibbles), What's Your News? (Anthony, Peek, and Gi Ant), Space Pirates (Stringy) and Wizards vs Aliens (Stickley and Squiggly).
With the arrival of computer animation and CGI, using digital motion-capture systems, Brian has worked extensively in many aspects of puppetry and suit performance on both stage and screen to develop new types of virtual puppetry and keep performers at the heart of performing. His work includes various frogs, pigs, and chickens in Muppet Treasure Island (1996), Vogon minions and the Ravenous Bugblatter Beast of Traal in The Hitchhiker's Guide to the Galaxy (2005), Infected in 28 Weeks Later (2007), Silkard the fish vendor in Hellyboy II The Golden Army (2008), Hammerpede in Prometheus (2012), Ice Warrior in Doctor Who (2013) and Gordon in Victor Frankenstein (2015).
Since 1992 his combination of forward thinking, a keen interest in the industry, good humor, and enthusiasm has helped Brian stay one of the UK's busiest puppeteers.
Attending Professionals:
The Sci-Fi Janitors
The two little guys who started it all, Bob and Carl are Dragon Con's little yellow puppet ambassadors. You can catch their geeky antics on DCTV. Once again they will be your hosts for an incredible 5th year of The Late Night Puppet Slam bringing you the very best in geeky adult puppet shows to the biggest puppet slam in the world!
Stacey Gordon
Stacey Gordon is an improviser and puppeteer in Phoenix, Arizona, where she's been building puppets, teaching, and performing in Puppet Slams since 2001. Stacey co-directs & puppeteers for The Bob & Angus Show, a web-series produced for Mayfair Games. Her puppets have been featured in music videos, commercials, and on ABC's The View.
Pat Brymer
A puppeteer and puppet craftsman, Pat Brymer has been creating puppets and costume characters for major production companies since 1973. In 1982 he formed his own company, pat brymer creations. Pat was the gopher in 1980's Caddyshack. His other feature film puppeteering credits include The Muppet Movie, Short Circuit, My Stepmother is an Alien, Indiana Jones and the Last Crusade, So I Married an Axe Murder, and Team America, World Police.
Katie Correll
K80 is a puppeteer and roboticist based in Orlando Florida. Her work has been seen on Broadway, in Television, Film, on tours and in Disney and Universal theme parks. See more at K80Bot.com
Joshua Holden
Joshua Holden is an award-winning puppeteer and joy-maker in NYC. Broadway tour of AVENUE Q; Lead Puppeteer in Peter Pan 360; Banksy's Sirens of the Lambs. In 2013, Joshua performed his own show, The Joshua Show, at The Puppeteers of America's National Festival (awarded "Best Performance" and "Audience Favorite"). www.TheAmbassadorOfJoy.com
Harry LaCoste
Harry is a performer, teacher and rocks a ukulele. After working on set on Sesame Street he was inspired to try puppeteering again. He has a website www.GoodNewsGus.com where his fuzzy yells friend Gus makes personalized videos and makes appearances like the Kids Really Rock Festival! Harry performed with Team Lopez, a puppet improv team in NYC and a new team in Boston called Total Feltdown.
Kristie Winther
Kristie Winther is a visual artist currently living in Portland, Oregon. She is a founding member of the Tryfuss Puppet Collective and her ideal state is being creatively busy at all times. When she's not building, painting, or performing with puppets she might be painting a giant mural, working on mosaics, stained glass or making jewelry. You can find her work at Marigoldmuralstudios.com or at Tryfusspuppetcollective.weebly.com.

Jim "Nappy" Napolitano
Jim Napolitano is a graduate of the UCONN puppet arts program, has performed live puppet theater around the country and the world. His work has also been seen on Nickelodeon, PBS, HBO and the Fox Animated show Kirby: Right Back at you. WARP STAR!
Ric Wilson
Ric Wilson's puppet experience began as an art/theatre project in college. His first job as a professional puppeteer was with Sid & Marty Krofft Productions, under the direction of Van Snowden. He has also worked for Aniforms, Hanna-Barbera Productions, McGruff the Crime Dog series, Tj3Productions' The Crayon Court, the film 21 Jump Street, and other film and theatrical productions. He has recently served as board member and former president of the Los Angeles Guild of Puppetry.
Gavin Cummins
Gavin Cummins began puppeteering in Seattle as a slam performer having presented works across the country including Portland, New York, Boston, Atlanta, Cincinnati, New Haven, Philadelphia, Atlanta Film Festival, and the National Puppet Slam in 2013 among others. He is the founder of the Salmagundi Puppet Cabaret at BIMP and the Fussy Cloud Puppet Slam. In 2015 was an Emerging Artist at the National Puppetry Conference at the Eugene O'Neil Center.
Bill Holznagel
Bill Holznagel became addicted to puppets at the tender age of 7 when he did an impression of Animal at the dinner table. Bill is half the comedy duo of Playtime! with Pete and Randy which destroys the world one happy accident at a time. In his heart, Bill is a writer and character actor. He strives to produce work that he, as a seasoned puppeteer, would want to see.
Mitch Salm
Originally from Wisconsin, Mitch Salm lives in Chicago, where he studied theater at the University of Chicago. He is a theater artist and comedian. He plays trumpet. He recently graduated from The School for Theater Creators, Chicago.
Allyson Gonzalez
Allyson Gonzalez is the Artistic Conductor of Stand On Your Hands and Clap and author of the annual zine, Save the Bees Worx. You can read more about where this Latina Puppeteer is performing or publishing next at www.allysongonzalez.com.
Thom Fountain
Thom Fountain, a native of Decatur, Georgia, is a two-time EMMY nominated puppeteer with 42 years professional experience in puppetry arts. His most famous character was Salem, the Talking Cat from Sabrina, The Teenage Witch. Other credits include The Crypt Keeper from Tales from the Crypt, Chucky in Childs Play III, a principal puppeteer and 2nd unit coordinator for Team America: World Police, and he voiced and operated the character of Neeble, the worm guy in the Men In Black trilogies.
Christine Papalexis
Christine Papalexis has had the good fortune to work on a Roger Corman film, puppeteering a giant cockroach creature with buckets of blood and slime. From there she worked on more features, TV, commercials, and videos, spending a lot of time at creature effects companies in Los Angeles, puppeteering everything from aliens, a bull, a gorilla, a famous sex scene with marionettes, a martian, a couple of penquins, a pink teddy bear, and more. She has moderated panels at ComiCon in San Diego, contributed to various puppet magazines and is a past president of the Los Angeles Guild of Puppetry.
Paul Velasquez
A graphic designer and Illustrator by trade, Paul Velasquez discovered the magic of building and performing hand and rod puppets at the tender age of 40 after volunteering for the Jim Henson's Fantastic World traveling exhibit. He lives in Portland, OR and his spirit animal is a frog with a banjo...to see more of his work visit feltupbypaulie.org.
Myra Su
Myra Su is a narrative artist specializing in storytelling through puppetry and theater. Her primary medium is shadow puppetry, but she has also been experimenting with puppetry across multiple media -- paper craft, sculpture, video, animation, and most recently, amateur taxidermy. She often performs at Nasty, Brutish & Short, a quarterly puppet cabaret in Chicago. Her work also includes collaborations with various theater and music productions as a puppet designer. In addition to her independent projects, she is a Manual Cinema company member. Myra holds a BA with honors in Theater and Anthropology from the University of Chicago. For her portfolio, please visit: houseofmyra.wordpress.com.
Jessie Delaplaine
Jessie Delaplaine is an artist, aerialist, contortionist and puppeteer from Baltimore. She earned her B.A. in General Fine Arts at MICA and has worked with DNA Theatre as an acrobat, and with the Baltimore Rock Opera Society on props, sets, and performance work. Jessie founded Tryfuss Puppet Collective in cahoots with fellow MICA grads and BROS members Devin Martin, Sam Grossman, and Kristie Winther in 2015 and they've been happily painting and hot gluing bits of cardboard to themselves ever since.
Emily Schubert
Drawing from mythology, folktales, memories, and personal experience, Emily Schubert creates characters, puppets, and multi-media performances that aim to make some sense of our existence by giving form to our collective fears and desires. Emily has studied and participated in ritual theater and contemporary puppetry in Indonesia, as well as political puppet theater with Bread and Puppet and processional events in the United States.
Honey Goodenough
Honey Goodenough is a New York City based puppeteer, producer, educator, clown, and magician. Puppetry credits include Phantom Limb's The Fortune Teller, Puppetworks, and The National Marionette Theater, and No Strings International. She produces Puppet Pandemic, a nationally touring showcase of puppetry works. And yes, that really is her name.